DY-200W-12-R
• AC input range(176-264VAC) • Work normally at low temperature Of -35℃ • More than 87% of the efficiency • Machine plate soaked three anti paint • Protection type:short circuit/Overload • Heat dissipation with fan • Led power working indicator • Excellent quality and high reliability • 100% full load burn-in test
产品详情
Product feature:
• AC input range(176-264VAC)
•Work normally at low temperature Of -35℃
•More than 87% of the efficiency
•Machine plate soaked three anti paint
•Protection type:short circuit/Overload
•Heat dissipation with fan
•Led power working indicator
•Excellent quality and high reliability
•100% full load burn-in test
Suitable for:
•Outdoor landscape lighting project
•Led light emitting signs
•Led low-voltage light belt lighting
•-35℃low temperature environment site
Product Description:
DY-200W-R series is a single output aluminum profile rainproof power supply.The power supply adopts aluminum shell, the internal machine board is soaked in three anti-paint to protect the electronic components from moisture and dust, and has a complete protection function.DY-200W-R series is suitable for outdoor LED lighting captions, billboards, commercial display, etc.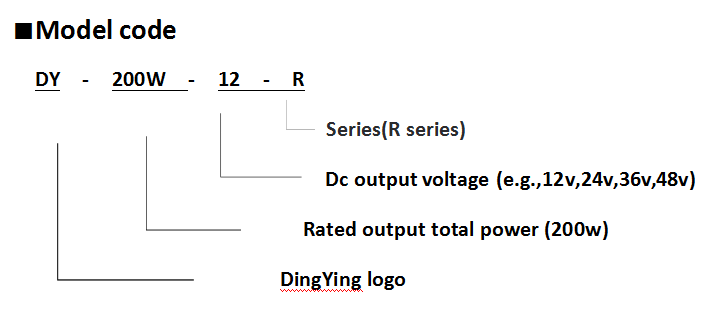 Electrical param eter:
Model
DY-200W-12-R
DY-200W-24-R
OUTPUT
DC voltage
12V
24V
rated current
16.6A
8.3A
cuttent range
0-16.6A
0-8.3A
rated output power
200W
200W
ripples and noise
≤200mVp-p
≤300mVp-p
output current range
11.5-12.5V
23-25V
precision of output voltage regulation
±0.5%
±0.5%
rate of lenear adjustment
±0.5%
±0.5%
load adjustment rate
±0.5%
±0.5%
The startup time
≤2s/230VAC
INPUT
keep the
10ms/230VAC
voltage range
176-264VAC
Frequency range
50Hz
power factor
PF≥0.6/230VAC
efficiency
≥87%
≥89%
alternating current
3.4A/230VAC
surge current
50A/230VAC
leakage current
<5mA/230VAC
PROTECTION
overload
110%-140%: rated 110%-140% of the total power input
protection mode:Auto recovery mode.the system automatically recovers when abnormal load conditions are removed
short circuit
protection mode:Auto recovery mode.the system automatically recovers when abnormal load conditions are removed
Over voltage
protection mode:self-recovery mode,automatic recovery when the overvoltage is removed
over temperature
protection mode:self-recovery mode,automatically recover when the temperature drops
ENVIRONMEN
working temperature
-35~+50°C
working humidity
20-90% RH
storage temperature;humidity
-30~+85°C; 10~95% RH
temperature coefficient
±0.1%/°C(0-35°C)
resistance to vibration
10-500Hz, 3G 10min. / 1 cycle, 60 min. each axes
SAFETY&EMC
safety norms
EN60950 , GB4943.1 -2011
withstand voltage
l/P-O/P:1.5KVAC l/P-FG:1.5KVAC O/P-FG:0.5KVAC
insulation impedance
l/P-O/P, l/P-FG, 0/P-FG:100M Ohms / 500VDC / 25°C/ 70% RH
EMC
--
other
protection grade
IP23
MTBF
≥30khour 25℃
power supply size
L176*W76*H56mm
power supply weight
259g
NOTE
1.Unless otherwise specified , all specification are measured at an input of 230VAC,rarted negative cut,and ambient temperature of 25°C
2.Ripple and noise measurement method:the measured end is connected in parallel with a 0.1uF+10uF capacitor,the oscilloscope is set to 20MHZ bandwidth,and the probe is tested with cap off and full load at 25°C
3.Accuracy :includes setting error , linear adjustment rate and load adjustment rate .
4. The output power is reduced when the input voltage is less than 200VAC.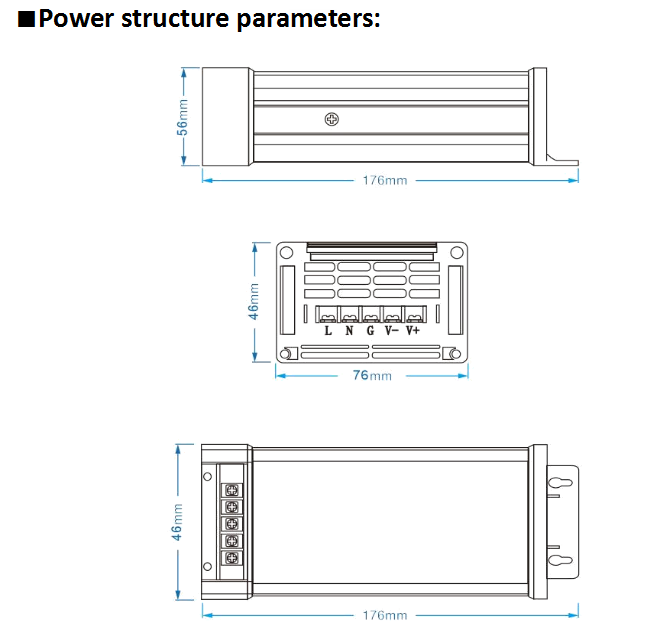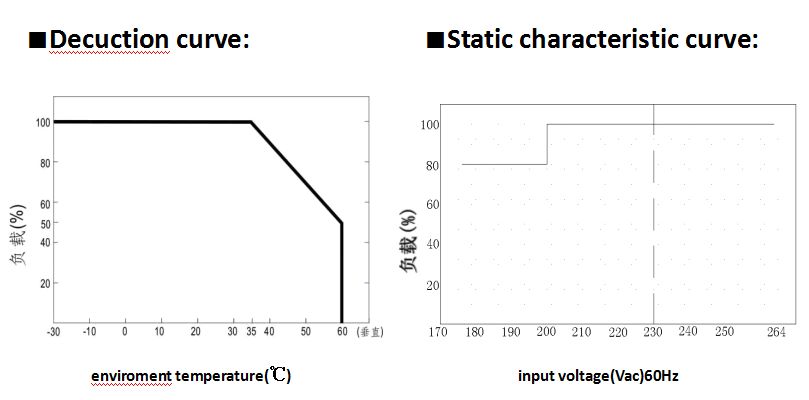 Correct installation of the power supply
1.It is only used for vertical wall-mounted installation of outdoor rainproof power supply. Do not lean forward, lean back, or horizontal during installation. The installation method should be standardized.
2.The above picture shows the correct installation method of vertical wall hanging.
3.To dissipate heat, keep a distance of 10 cm from both sides (left/right) and 30 cm from the lower end of the fan port, as shown in the following figure.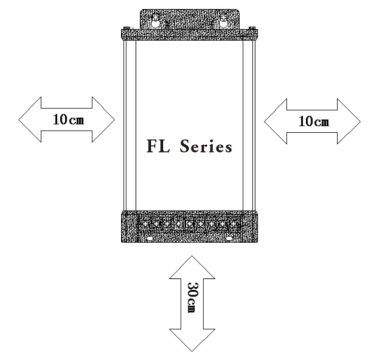 Copyright © 2023 Guangdong Dingying Lighting Technology Co., Ltd. (DY)